Enclosed Shipment
We provide enclosed shipment for all makes and models of vehicles. Whether you're moving a luxury car, an SUV, a motorcycle, or anything in between, we'll deliver it safely and on time. We own and operate a fleet of trucks with a team of professional drivers to ensure you experience only the very best service. We specialize in transporting luxury and highend vehicles.
Why Use Enclosed Shipment?
Enclosed shipment provides maximum security for your vehicle during transportation — which is why it's the best and most recommended way to ship luxury and classic cars. An enclosed auto carrier is ideal for shipping any vehicle in need of extra protection. Open carriers leave vehicles vulnerable to scratching, dirt, weather, and debris. In our enclosed trailer, your vehicle will be insured and shielded from all damage.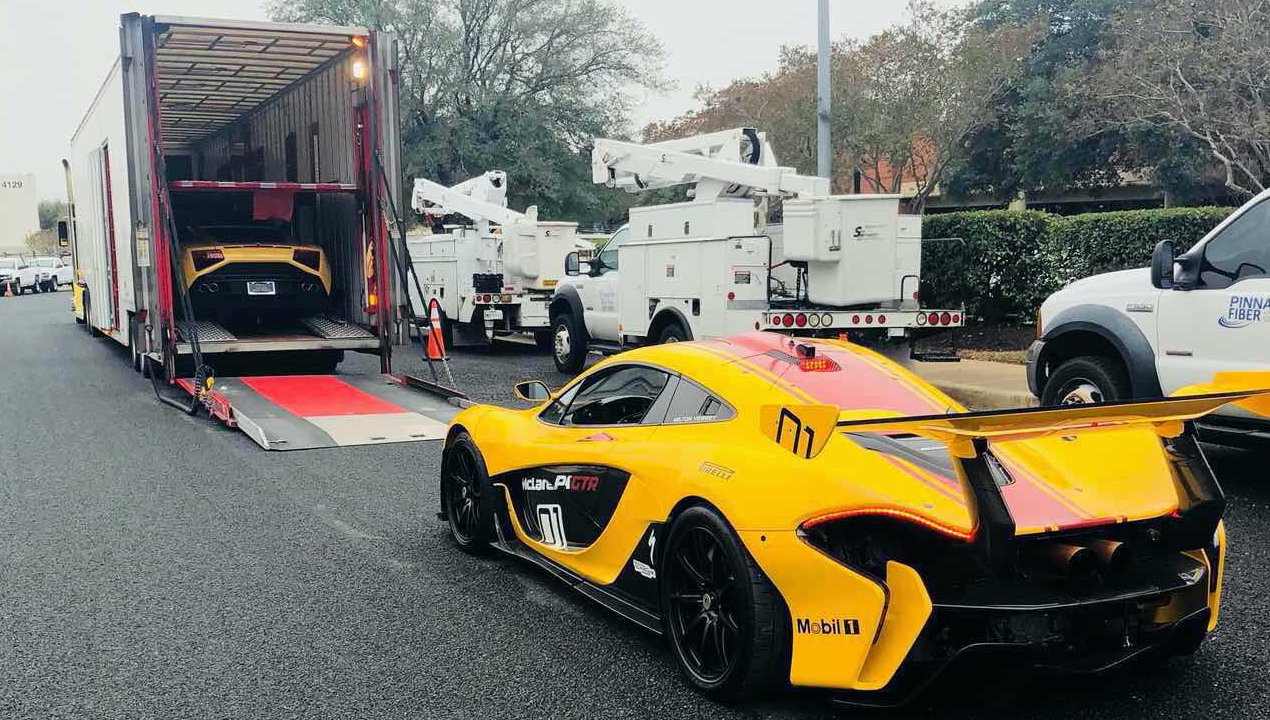 Reasons to Ship Your Vehicle with Us
Enclosed shipment shields vehicles from weather, rocks, dirt, dust, and all other forms of damage, natural or otherwise.
Enclosed trailers protect high-end vehicles from prying eyes.
In almost every situation, our delivery services are door to door. In some cases, factors like very sharp turns, narrow subdivision roads, low-hanging tree branches, or steep hills require us to deliver a vehicle to a safe nearby location.
Our trailers are equipped to carry both low clearance and tall vehicles. Vehicles are loaded, unloaded, and transported horizontally, not inclined. A rear liftgate on each trailer acts as an elevator that lifts a vehicle without tilting it.
We use strapping belts on top of the tires only, not on the body of the vehicle. Because our trailers are enclosed, we can completely avoid the use of damage causing chains.
In an enclosed trailer, vehicles don't need additional covering to avoid being scratched by wind and debris.
Enclosed trailers hold fewer cars (6-7) than open trailers do (9-10), allowing faster delivery.
Our drivers receive special training on how to handle all kinds of vehicles, including high-end cars.
Because our company is family owned, we offer lower prices and better customer service than our corporate competitors do.
Open Shipment
Open shipment is not recommended for high-end, luxury, or other specialty vehicles. However, vehicles that are driven almost every day face many of the same hazards as vehicles transported on open carriers do, so this can be a good option for lower­end cars. While our fleet is made up exclusively of enclosed trailers, we work with open transport carriers nationwide on regular basis. If you're looking for open trailer shipment, we can help you find a solution that fits your needs.
Overseas Shipment
(Including Alaska, Hawaii, and Puerto Rico)
If you're transporting your car to a US port for shipment overseas, we can arrange everything for you. Our transport coordinators will take care of filling out all the port paperwork for your international destination so you can ship your vehicle hassle-free. All you'll need to do is sign!
Storage Terminals
If you can't pick up your vehicle on its delivery date, we'll help you arrange a safe storage solution.